ORGANIC
MINISTAINCLEANER
The 100% natural ALL-IN-ONE instant cleaner for fast removal of almost all fresh stains.
Absolutely safe and gentle to textiles application for almost all types of synthetic and natural fabrics.

ORGANIC
OUR
MISSION
PRESERVING THE BEAUTY OF FASHION.

Those who really love and appreciate fashion do everything to keep it intact and preserve its beauty. Our minicleaner was developed precisely for this purpose.

As a personal "fashion guardian" for all occasions.

With you everywhere, always ready for immediate use. Super effective in its effect. Extremely gentle on fabrics. Very gentle on the skin.
MISSION
OUR
MISSION
FREEING THE BEAUTIFUL THINGS AT HOME FROM TRACES.

Those who celebrate life with their loved ones in the right way also leave traces.
From eating, drinking, romping, arguing. Playing.
Our minicleaner removes the visible, unsightly ones. Quite naturally.
The nice ones stay in your head.

MISSION
PUSH&CLEAN
MECHANICS
Our minicleaner is always and everywhere immediately ready for use, because the unique.
Push&Clean mechanism soaks the cleaning cloth with the liquid in just a few seconds.
One push is enough.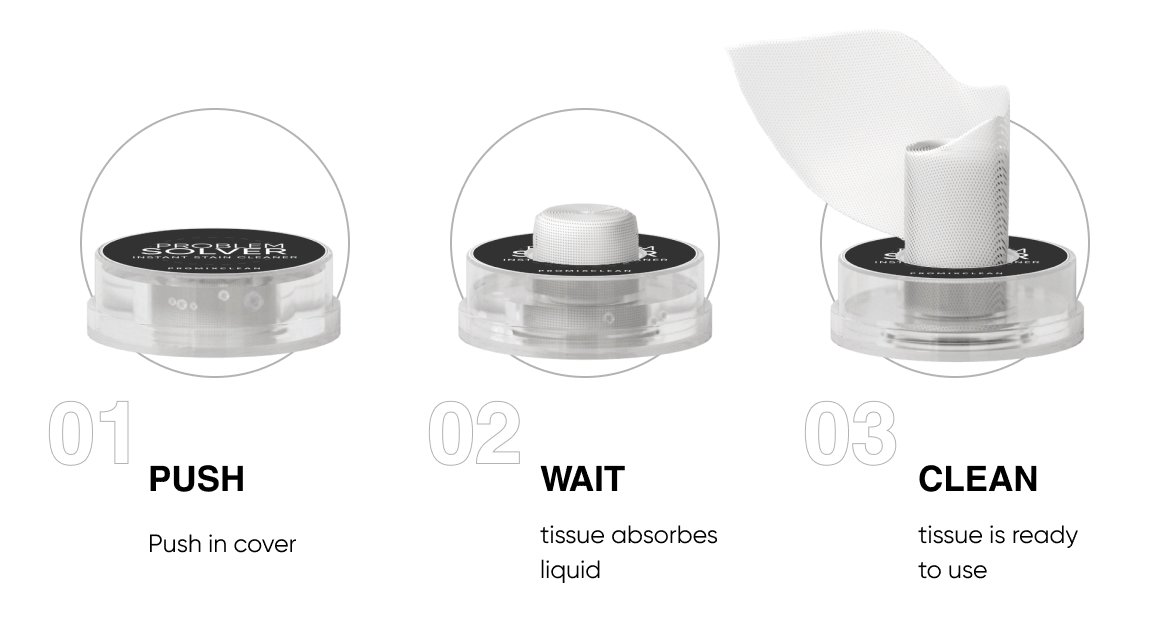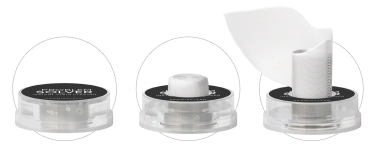 02
WAIT
cloth absorbs cleaning liquid
03
CLEAN
cloth is ready for use
KEY
FACTS
Removes fresh stains within seconds
For stains and textiles of all kinds
Super Smart to use (Push&Clean)
Can be used immediately everywhere
Only 4cm diameter
Fits in any handbag or pocket
2-in-1
100% organic cleaning liquid with in-house developed formula
Biodegradable cleaning cloth made of 100% bamboo fiber
Biological plastic capsule (packaging)
Absolutely skin friendly
Does not cause skin irritation on contact with skin
Rated "very good" by DERMATEST
Safe application on almost all types of fabrics
KEY FACTS
ABOUT
PROMIXCLEAN

We are a German start-up specialized in the development, production and marketing of smart and innovative cleaning products.

We develop 100% ecological products that are tailor-made to meet the needs of a modern, environmentally conscious and dynamic-mobile society.

PROMIXCLEAN has its own scientific development team, coupled with an agile company structure, which realizes new problem solutions in the cleaning sector in a timely, fast and efficient manner. Smart Cleaning Solutions. Made in Germany.

Smart Cleaning Solutions. Made in Germany.
PROMIXCLEAN